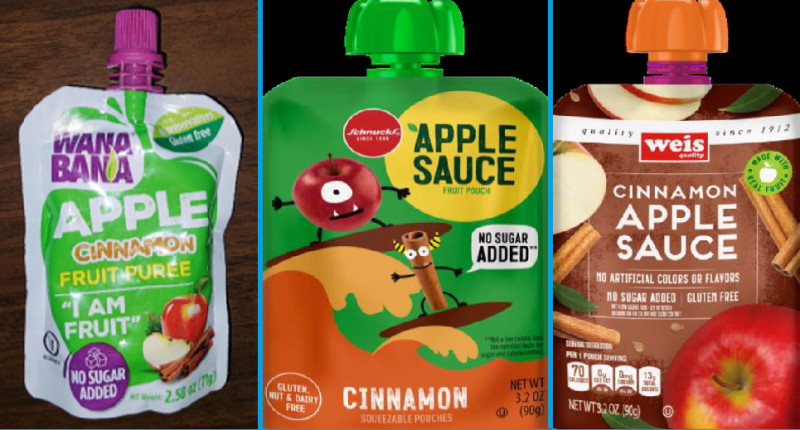 U.S. health officials are issuing a warning after at least 22 toddlers in 14 states fell ill due to lead poisoning linked to tainted pouches of cinnamon apple puree and applesauce. Children between the ages of one and three were affected, with one child showing a blood lead level eight times higher than the CDC's concern threshold. The affected products are from the brands WanaBana apple cinnamon fruit puree, Schnucks, and Weis cinnamon applesauce pouches, sold both in stores and online.
Health Implications and Symptomatology: Children aged one to three have experienced lead poisoning symptoms, including headache, nausea, vomiting, diarrhea, changes in activity level, and anemia. The blood lead levels ranged from 4 to 29 micrograms per deciliter, with one child exhibiting levels eight times higher than the CDC's concern threshold. Recalled pouches of fruit puree from WanaBana apple cinnamon, Schnucks, and Weis have been identified as the source of lead contamination. The products were distributed both in stores and online.
The outbreak has affected toddlers in 14 states, including Alabama, Arkansas, Louisiana, Maryland, Missouri, New Mexico, New York, North Carolina, Ohio, Pennsylvania, South Carolina, Tennessee, Texas, and Washington.
FDA Investigation and Leading Hypothesis: The FDA is actively investigating the source of contamination, with cinnamon identified as the leading hypothesis. However, the agency has not yet been able to test samples of the cinnamon used in the recalled products.
Lead levels in the recalled pouches far exceed proposed FDA limits, ranging from 1,900 ppb to just over 5,000 ppb. The high levels raise concerns about intentional adulteration or economic motives behind the contamination.FDA's prompt response, including recalls and alerts, has been commended by stakeholders. Deputy Commissioner Jim Jones has been credited for swift decision-making and prioritizing public safety.
Retailer Response and Continued Sales: Despite recalls, reports indicate that not all retailers have promptly removed the tainted products from their shelves, with continued sales reported in some stores.
Healthcare Provider Alert and Screening Recommendations: The CDC has issued an alert urging healthcare providers to be vigilant for symptoms associated with lead poisoning in children. Screening for lead levels is recommended for potentially affected children. The incident has ignited discussions about the lack of mandatory standards for heavy metals in most foods, particularly those marketed for babies and young children. Parents and caregivers are strongly advised not to purchase or serve the recalled products. Ongoing investigations highlight the need for continued vigilance and comprehensive testing for heavy metals in our food supply.
Source:https://www.fda.gov/food/outbreaks-foodborne-illness/investigation-elevated-lead-levels-cinnamon-applesauce-pouches-november-2023