What is facial recognition payment system?
Facial biometrics technology is evolving from a mobile-focused authentication solution to a more universally applicable authentication solution. Now for in-store payments, the facial recognition payment mechanism has gained popularity. When making payments in a store, consumers only need to scan their faces standing in front of point-of-sale devices equipped with cameras.
In the past, it was common to hear customers complain about long lines, slow check-out efficiency, and other concerns but now consumers will employ face recognition payment techniques. This technology can assist supermarkets in elevating payment methods and improving checkout speed, and shopping experience for customers.
What's the experience of this technology at supermarkets around the world?
In North Wales, UK, Customers may be prompted to pay using their faces or fingerprints at supermarkets. Retail giants are conducting a trial in which customers may be asked to use their face or fingerprints to make the payment. According to the Manchester Evening News, shoppers will be able to pay for their purchases by smiling or waving their hands at a scanner.
In Brazil, a trial program is presently underway at five St Marche supermarkets in Sao Paolo. More trials in Asia and the Middle East are also planned. According to Mastercard, the biometric facial recognition software would result in shorter lines, be more hygienic than entering a pin, and be less prone to fraud tied to credit and debit cards. The trusted technology that unlocks your phone using your face or fingerprint can now be used to assist customers to make payments by just scanning the face.
Driven by IoT technology advancements, social economy optimization, and people's shifting shopping habits towards contactless services and multi-factor influence, South Korean supermarkets introduce facial recognition payment systems in order to improve the payment experience. They deployed the Telpo F8 facial payment system.
Customers merely need to stand in front of the device and stare briefly into the camera, and their facial features will be automatically captured without the need for cashiers to manually enter the relevant information. The billing will be deducted from the bank account once the IDs are matched with the platform database. This system can assist consumers to register for membership the first time they pay with their faces As a result, the supermarket may collect members' individual consumption data and better understand their consumption habits and preferences.
Whereas in UAE, Network International and Carrefour, which is owned and operated in the UAE by Majid Al Futtaim, have announced the implementation of the Face Pay payment solution by confirming payments through consumer authentication service provider PopID. Carrefour clients in Deira and Amsaf Mall branches will be able to use the Face Pay solution to pay for their purchases of food and daily necessities. This solution is based on PopID's facial recognition technology and is accessible for general use through the Network International payments network.
This system can not only assist supermarkets in improving checkout efficiency, reducing queuing time, speeding up personnel flow, and increasing operation, but it can also provide customers with a contactless shopping experience.
How facial recognition works?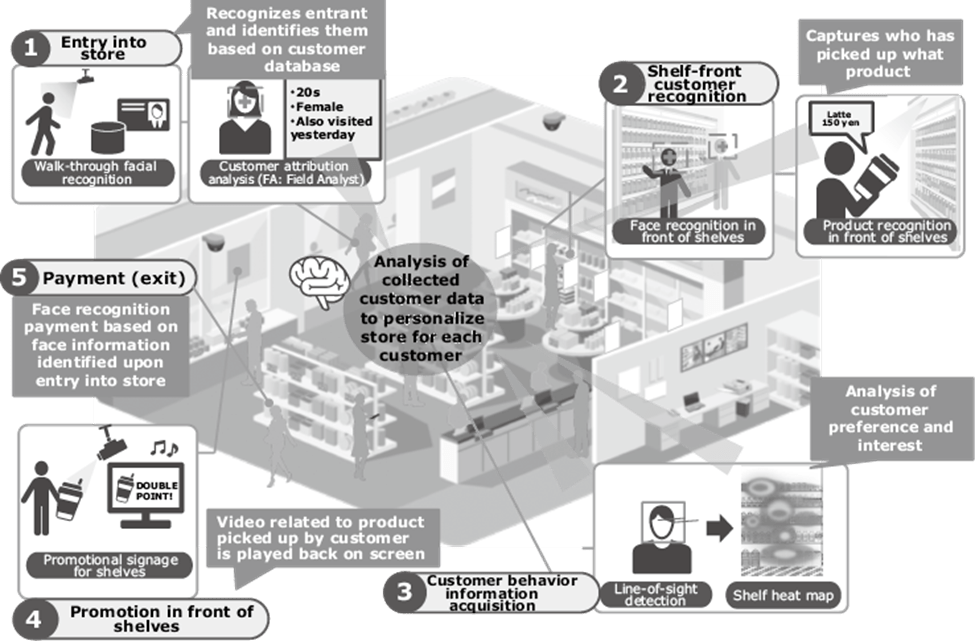 By uploading a selfie and a photo of a valid ID, the customer can sign up for a store's program. Facial recognition technology will match the two, confirming the customer's genuine identity. The customer can then add payment details to be associated with their face and account.
At the store, the consumer will grab whatever items are required and proceed to the self-service checkout. The checkout machine will recognize the customer's face and associate the transaction with their account. After the items are scanned, the consumer may just scan their face to confirm payment – there is no need to show a debit or credit card because the necessary information was previously submitted during the scanning process. Even if the customer purchases age-restricted goods, the entire method stays unchanged. With facial recognition, age verification can be done automatically.
Benefits and drawbacks of facial recognition system:
Facial recognition technology is being implemented more widely over the world. This is an advanced biometric technology that more businesses are adopting. Opportunities and problems coexist. Growing commercial interest in face recognition is encouraging, but it also turns out to be a challenging task due to the issues involved with it.
| | |
| --- | --- |
| Benefits | Drawbacks |
| Protecting businesses against theft | Can infringe on personal freedoms |
| Speed up checkouts | Violate the personal right |
| More convenient than cashier methods | Impact of changes arise due to aging, weight loss or gain, and plastic surgery |
| Eliminating the need for mobile devices also promotes a new notion of a cashless society. | Family members cannot use others' cards for shopping, aged people need to physically come to shopping. |
| Secures your money and save your time with providing a better life experience | Occlusion: Religious headscarves may be a problem, especially a burqa. |
| Prevent shoplifting and other retail crimes | Illuminations: light variations. |
Summary:
This technology is extensively employed in many stores in different countries, making the payment process faster and more convenient. Face recognition payment will undoubtedly become a payment trend in the future throughout the world. In order to enjoy the advantages of facial recognition, our society will need to overcome some serious hurdles to our privacy and civil liberties. You must be aware of all the benefits and drawbacks that come with it.
Will people accept the privacy invasion as a decent cost for enhanced security and the benefits facial recognition offers?